Highly Cost Effective Centerless Round Bar Grinding Machine Bar-forged Grinding Machine
Delivery term:The date of payment from buyers deliver within days
Price:

Negotiable

minimum:

Total supply:

Delivery term:

The date of payment from buyers deliver within days

seat:

Jiangsu

Validity to:

Long-term effective

Last update:

2018-03-01 19:18

Browse the number:

100
Send an inquiries
Company Profile
Jiangyin Yuanfang Machinery Manufacturing Co.,Ltd

By certification [File Integrity]
Contact:

jyyfjj(Mr.)

Email:

Phone:

Area:

Jiangsu

Address:

No.8 Kaitai Rd., Nanzha Street, Jiangyin City, Jiangsu Province, China
Product details
Centerless Round Bar Grinding Machine
1. Purpose
BPJ series centerless round bar grinding machine specially grinds the oxide skin and small flaw on the round bar steel and pipe billet surface to improve the surface quality of the steel. This machine is controlled by PLC and the operation only needs 2 people.
2.Scope of Application and Main Technical Parameters
Bar External Diameter: φ35mm~φ350mm
One time Grinding Quantity:  0.2mm~1mm
Speed of Travel: 1m~7m/min
We can make it into various types like the 6-grinding head~15-grinding head type, etc. according to the flaw depth of steel bar surface.
3. Awarded Honor
This machine was originally created by our company in 1998 and got the national patent in 2000. And it was identified as the "Jiangsu Province High and New Technology Product" in 2002 and also honored as the "Wuxi Famous-brand Product".
4.Number of National Patent: ZL 00 2 19643.3   ZL 03 2 21684.X
Conveying Type Round Bar Grinding Machine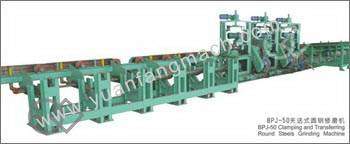 1. Purpose
This machine is used for grinding the excircle of round bar steel and wiping off the oxide skin and microcracks, etc. to improve the surface quality and save the secondary waste generated by the surface defect and eliminate the environment pollution caused by the pickling process, then the economic benefit of the enterprise can be improved.
2. Scope of Application and Main Technical Parameters
Bar External Diameter: φ12mm~φ50mm (It is different according to the requests of users.)
One time Grinding Quantity: 0.2mm~0.6mm
Speed of Travel: 3m~7m/min
3. Number of National Patent:  ZL 01 2 45513.X
Forged Bar Grinding Machine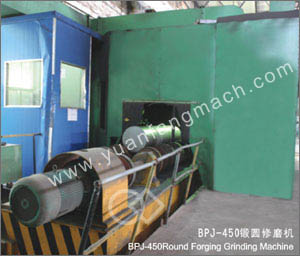 1. Purpose

This machine is used for the excircle grinding of large-scale bar and has the function of whole skin peeling off and point grinding.

2. Scope of Application and Main Technical Parameters

Grinding Scope, Bar External Diameter: φ200mm~φ700mm

One time Grinding Quantity: 0.5mm~2mm (Abrasive Grinding)

Speed of Travel: 0~30m/min (Frequency Control of Motor Speed)

3. Number of National Patent: ZL 2009 2 0180333.1   ZL 2009 2 0180332.7

FAQ


Q: Are you trading company or manufacturer ?

A: We are a manufacturer with our own factory.

Q: How long is your delivery time?

A: Generally, it is 3 months after payment, or  it depends on the quantity of order.

Q:What about the after-sale services?

A:We provide 12 months quality warranty after dispatch. We also offer long-time technical advisory services.

Q.What about the transpotation?

A:We can take any type of transpotation according to the customer's demand.

Q: why choose us?

A:Yuanfang Machinery Manufacturing Co., Ltd. is located in Jiangyin City, Jiangsu Province, China. It is founded in 2006, covering an area of about 40,000 m2 with a gross investment of 120 million RMB. Yuanfang Machinery Manufacturing Co., Ltd. is an enterprise majoring in designing, manufacturing and selling large metallurgical, environment friendly and non-standard equipments. It is also a professional manufacturer in finishing and grinding series equipments applied on the subsequent processes after steel producing. The company passed the ISO9001 international quality certification in 2007. In 2009, it was identified as the "High and New Tech Enterprise in Jiangsu Province". In the year of 2010, it passed the ISO14001 Environmental Management System Certification.   




Please feel free to contact with us for detailed information, we will reply you at once.

Contact Below:

Jiangyin YuanFang Machinery Manufacturing Co.,LTD.

Shanny Shen: +86 151 5228 8398

Jessica Zhang: +86 159 6161 0166

Tel:+86-510-80283152

Fax:+86-510-86292857

Email:

Web:

Add:No.8 Kaitai Rd. Nanzha Street Jiangyin City Jiangsu Province china





http://www.chamferingmachinechina.com/